A Cook Releases Platform to Shake Up the Mobile Internet Industry
Yunzi X Labs makes it easy for enterprises to release their own WeChat content using 9 different light platform applications. Using this light platform, WeChat marketing campaigns and consumer data analysis is direct and can be done without the help of a developer. Our Results-Based Payment System ensures you do not waste your money on digital marketing plans that aren't right for your business.
The platform was created by Nansen, vice president at Sensoro. Nansen was a traditional restaurant industry chef for more than ten years before deciding to work in Social Customer Relationship Management (SCRM) with Sensoro. As former chef, Nansen understands the real needs and acute pains of running a restaurant business. It was his experience in a traditional industry that inspired him to create a user-friendly platform where the managers of any kind of business could use social media to improve SCRM strategy.
Yunzi X Labs provides users with a one-stop SCRM solutions that will target your consumers and make customer relations an offline to online (O2O) interaction. It supports targeted coupons release, customer data analysis, impact relations network visual research tools, and other applications which get you in touch with your customers on WeChat. Once you have executed your WeChat marketing events using the platform, you can easily analyze all customer data obtained by WeChat, which will directly show on the platform in real time.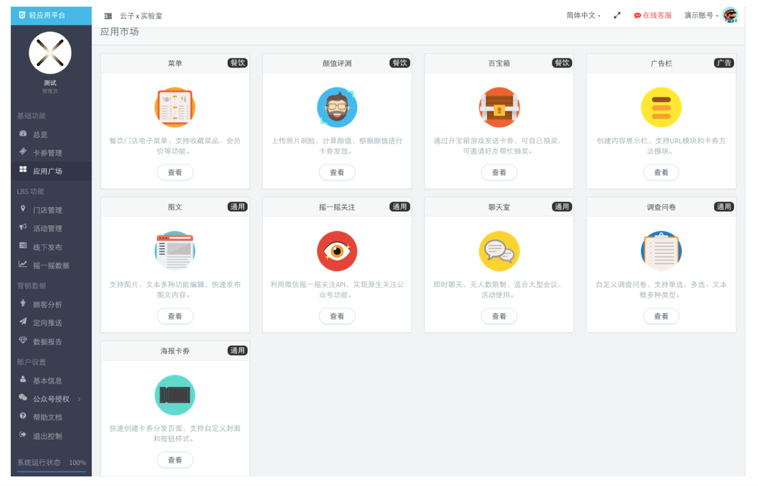 The platform's 9 applications will help you optimize your WeChat content so that it can be conveniently shared by WeChat users to WeChat Moments, or to private and group chats, exponentially increasing the amount of users you reach.
1. Menus: Restaurants in Japan Provide Chinese Menus
Nansen decided to start with a restaurant menu function to demonstrate the new platform's palatable possibilities in application methods. At various Japanese business districts, restaurant owners were able to easily broadcast Chinese language menus from Sensoro beacons they had configured using the Yunzi X Labs Menus application. Potential customers can view a restaurant's menu from outside the restaurant, helping them decide if they want to go in. At Japanese business districts, this platform application eliminated language barriers and the social embarrassment of miscommunication, making relations between restaurant owner and customer much more efficient. Users of the Menus content can add their favorite items or entire menus to the favorites collection option, which will save content from different restaurants. This feature provided added value for the customer as it can be used as reference the next time a customer visits that restaurant, or other restaurant like it. The Menus content can be updated in real time, allowing restaurant owners to quickly adjust to seasonal or other changes.
2. Face Value Application Resonates with Internet Culture
The Face Value application will can a picture of the customer or of someone the customer wants to scan, and assign the customer a coupon based on how the scan evaluates the attractiveness of that person. Selfies have become an important cultural phenomenon because of the importance of social media networks like WeChat in daily life. Netizens in China often refer to China's present day society as "age of appearances", and joke about people "getting by on appearances". You can insert your business's WeChat content into these trending social media topics by offering a coupon activity to users. Users can share their results on their WeChat moments to let everyone know how they scored and invite others to compete with their Face Value scan score. This year Beijing experienced a rush in digital marketing efforts. Some of the most popular of which had to do with integrating popular conventional app features for personal use with commercial advertising. The Face Value feature achieved a high participation rate with Huangtaiji's restaurant business promotion campaign, and remains one of the most popular applications of Yunzi X Labs.
3. Treasure Chest Coupon Prize Draw
Treasure Chests is one of the most widely used platform applications because it allows users to call on their WeChat contacts to help them win a prize draw. Treasure Chests allows users to choose between three chests with the chance to win something. If the user does not win, they can share the Treasure Chests content to ask their contacts to help them win the prize. Their contacts can both help their friend win the prize, or participate themselves. Yunzi X Labs allows you to determine the number of different participants who can help a given customer win a prize, and other factors governing the probability of a given user winning a prize. The probability of winning can be increased for the amount of WeChat Moments shares they influence, giving the user and added incentive to share your content. WeChat Moments shares are a great way to generate online buzz for your brand. The aim of the Treasure Chest feature is to enable businesses and brands to achieve ripple effects in user interaction, while also creating a win-win situation for the consumer and brand.
4. Billboards Create Interactive Coupon Advertising Space
The Billboards application enables flexible advertising capabilities that can be applied to any business situation. One Billboards page on WeChat can give exposure to content from multiple different organizations, allowing the end user to browse the coupon offerings and prize draws they might be interested in. Sensoro began work in September this year on a project to broadcast media on China Railway High-speed (CRH) by deploying SmartBeacon-4AA's on 260 high-speed trains. Passengers on CRH trains connecting to Beijing could use the WeChat Shake feature to access Billboards featuring graphical links to coupon or prize draw offerings from various advertisers. Users can refresh the Billboards page in order to view alternate billboards to the ones shown. The advertising space provides nearby users with a variety of choices to get coupons which are interactive, and can be added directly to their WeChat coupon account.
5. Graphic & Text Unlimited Content Broadcasting
While some methods of releasing your content on WeChat have strictly imposed limits, the Graphics & Text application can release content at will, as well as update or recall that content in real time. WeChat subscription accounts, however, content can only be broadcasted one time per day, and cannot be recalled or edited. The National Museum of China deployed Sensoro beacons on minimal broadcast radius at each of their art pieces, and used Yunzi X Labs Graphics & Text application to configure a vast amount of content-rich pages to the beacons. Museum visitors were able to bring up the full details of each piece on their phones with the WeChat Shake nearby feature. The content provided added location specific information to the visitor's experience, and allowed the visitor to share that information through WeChat.
6. Get More Followers Through WeChat Shake Content
Shake Followers can help increase the number of followers of you WeChat Public Account by offering users a prize draw or access to other content. You may choose to
to require users to follow your Public Account when they use Shake to be linked to content from your WeChat Public Account. Shake following is frictionless and replaces the physical QR codes which people line up to scan. Once you have more followers for your Public Account, you will have a larger foundation to broadcast your targeted WeChat digital marketing efforts to. Other Yunzi X Labs features and applications can also help you take advantage of your connection to your growing number of followers.
7. Chatroom Application Generates Buzz at Physical Locations
Chatroom connects users who share an interest in the locations covered by your Sensoro iBeacon network. Although specific to iBeacon connected physical hotspots, other WeChat users can join the Chatroom regardless of geographical location or existing number of Chatroom numbers. Participants at the locations can be linked through iBeacon or QR scan, while users not present can be linked by being linked to the Chatroom content. The flexibility of the Chatroom will be useful for large meetings or events when all participants might not be able to be physically present or conveniently talk to one another. The application is also popular with café owners because it allows customers sitting next to one another to strike up a conservation without fear of disturbing one another. Not only can the application be used to break the ice of situations in which people would not normally interact with each other, but can also be used to leave one's mark or message without physically defacing a location.
8. Coupon Posters
Coupon Posters allows you to make your prize draw or coupon offering visually appealing and perhaps informational to the user. In July 2015, Real Madrid Football Club began its fourth China tour, and engaged in mobile-focused digital marketing campaign parallel to their tour event. Real Madrid offered a prize draw to football fans who were either present at the games, or following the club's tour information on the official Real Madrid Weibo (Chinese micoblogging and social media website) and WeChat accounts. Football fans who attended the matches could use WeChat Shake to enter the prize draw page for authentic Real Madrid autographed memorabilia. Also available was tour event information and links for online shopping. During two Real Madrid preseason matches, these beacon broadcasted tour event pages were shared ten thousand times on social media by those present at the event.
9. Questionnaire Function Updates You on Real Time Consumer Trends
The platform application's Questionnaire feature provides quick and easy real time analysis of collected information. Questionnaires in the traditional sense took a lot of time, manpower, material and financial resources. After the finally collecting the results, a lot of work remained to be done in order to analyze the information. The light data analysis platform includes graphical displays, histograms, pie charts, and other forms of survey results which update in real time. With the rapid changes that happen in today's modern consumer environment, the real time Questionnaire function is a great way to stay in touch with consumer sentiments and trends, saving your business time and money.
Results-Based Payment System for Testing and Cost Efficiency
While some services for similar digital marketing functions can cost upwards of 30,000 RMB a year, the Yunzi X Labs light platform provides all 9 applications for a significantly lower rate. The platform and its three free applications will cost you 1 RMB per day, while each of the other 6 applications will charge your Yunzi X Labs account between 0.1 and 0.3 RMB per meaningful user interaction. These costs include monthly updates for the application platform.
The Results-Based Payment System is a main feature of the platform because it delivers guaranteed value and reduces business risks. The real value of the platform comes in when you have amassed large amount of WeChat interactions, and can begin to analyze your customers and their actions using the platform's data analysis tools. Yunzi X Labs will give you more marketing data with each event you use it in because the data will precipitate and continuously compile over use with various events. The core functionality of our platform is in information processing and secondary marketing processing.